The converted 4WD fire truck is the "All Terrain"
component of All Terrain Power Co.
It is designed by the owner, an experienced film technician.
The truck is ideal for: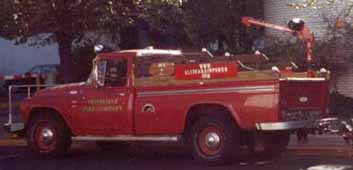 stills shoots or fashion shoots at remote locations such as out on the beach or at the end of a forest trail
smaller setups where only a small amount of equipment is required
frequent company moves
insert shots where the company splits from the base camp power or grip / lighting truck
power needs where a 4 wheel drive vehicle is essential
These uses will save long cable runs, save time and reduce crew size. Because the generator system is primarily mounted underneath the truck, the bed can be utilized for carrying a small equipment package or can serve as a camera and personnel platform. There is also the ability to add a platform in front of the truck.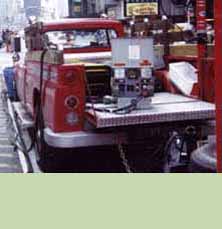 The truck generator is equipped with:
100 amps (12 kw) at 120/240 volts AC single phase output
fused camlocks with plenty of grounding connections
60&100 amp "Bates" 3 pin and 20 amp "Edison" outlets (see picture below)
a "crystal sync" governor on the engine
a built-in true RMS multi-meter to monitor current, volts and frequency
special "load sensing," flow controlled hydraulic pump for precise frequency control
grounding hardware including grounding rod, clamps and cables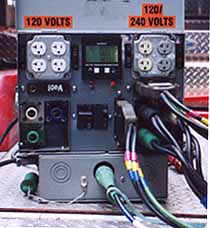 Other truck equipment includes:
a 1/2 ton swing out crane with power winch for loading of equipment such as a camera dolly or a hamper full of feeder cable
"air ride" equipped
front mounted recovery winch
"quick-plug-in" connectors in the front and rear of the truck for use with power inverters or other 12 volt DC accessories powered by four 12 volt marine batteries
The driver/operator of this hydraulic generator truck must be
All Terrain Power Co. approved.
---
Rental of the Generator and/or Truck is Tailored to Meet Your Needs.
For Rate and Availability Contact Us at:
Telephone: 718-852-4922 Fax: 718-267-0002
E-Mail Us
Web Page Comments?