On Location Pictures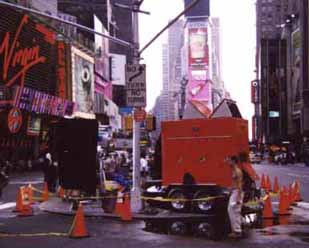 In this picture you can see the tow generator in use at Times Square NYC on the center island. The compact size is perfect for narrow locations such as sidewalks. There were two additional benefits on this job. First, a special permit would have been needed to park a motor vehicle on the sidewalk, but since the towing vehicle was parked elsewhere, there was no special permit needed. Second, unsafe power cable runs across Broadway were avoided.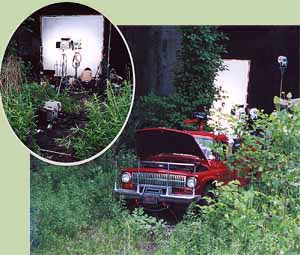 All Terrain Power may be based in Long Island City NY, but the generators are truly "all terrain." This shot used the truck's generator, althought the trailer generator would have been able to be brought into this same location.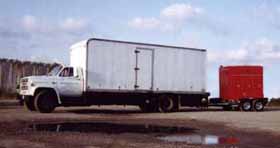 The tow generator is not always towed by All Terrain's converted fire truck. Here, we see it hitched up to the Eastern Effects lighting/grip truck. It can also be towed by your vehicle, if it has adequate towing ability, hitch, brakes and electrical hook-up. Call for specific requirements.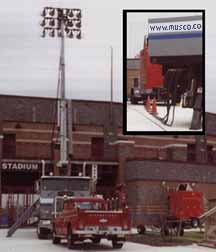 During a recent shoot for a Claritin commercial at Newark Bears Stadium, the generator was used to power a Musco Lighting truck. The generator (switched to 480 volt operation) is powering the fifteen 6K PAR lamps that lit the field from outside.

WTC:Ground Zero 9/12/01 - 9/18/01
---
Satisfied Clients Include:
Eastern Effects Inc. Luna Lighting NBC (for 2002 Olympics)
RKL Productions HBO Musco Lighting
Haze Lighting Strike Force Inc.
Features: "Get Well Soon," "At the End of the Day," "Super Troopers"
& "Matthew Barney's Cremaster III"
Commerials: Claritin, HBO - Boxing Promo, Time Warner Cable
& "Danone" French Yogurt
All Terrain Power is pleased to recommend Eastern Effects Inc.
for all your location lighting and grip equipment needs.
---
Rental of the Generator and/or Truck is Tailored to Meet Your Needs.
For Rate and Availability Contact Us at:
Telephone: 718-852-4922 Fax: 718-267-0002
E-Mail Us
Web Page Comments?