The 1400 Amp Tow Generator is a year 2000 model
built by the E & E Company with additional modifications by the owner - an
experienced film technician.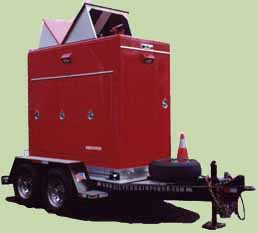 The 1400 Amp Tow Generator is ideal for:
Main power source for the location and set -- rain, snow or shine
All-day continuous power needs (it runs 13 hours at 1400 amps or 24+ hours at loads under 500 amps)
"Tight-Squeeze" locations as low as 9'6" to transport where other generators that are 12' and taller cannot go
Motor vehicle restricted locations - generator can be left on location without tow vehicle
The size, ease of towing and speed of set-up make our generator ideal for many situations. Our generator can be placed where other larger generators of the same electrical capacity cannot be used. In conjunction with our 4 WD truck,
you can take power anywhere.
The 1400 Amp Tow Generator is:
Switchable for 120/240 volts single phase, 120/208 volts three phase or 277/480 volts three phase
Able to run for 13 hours at full load or 24+ hours at less than 500 amps on one tank of diesel fuel
Very quiet when running (noise level is only 50 dB at 50 feet or less)
Low profile at a height of only 9'4" with the vents closed, approximately 15' long and 7'9" wide
Equipped with a special rain/snow intake vent for continuous run on those inclement days
Other Features include:
3 sets of panel-mounted, female camlocks and extra ground connections
Work lights all around the generator for night work
Wheel chocks, leveling blocks and easy to read level indicators for quick and easy set-up
Fuel valve with extra inlet/outlet to accommodate an external fuel source
On-board maintenance equipment to keep the generator running without interfering with the job (spare belts, etc.)
Grounding equipment including grounging rods, clamps and cables
Visual Tour of This Generator
---
Rental of the Generator and/or Truck is Tailored to Meet Your Needs.
For Rate and Availability Contact Us at:
Telephone: 718-852-4922 Fax: 718-267-0002
E-Mail Us
Web Page Comments?